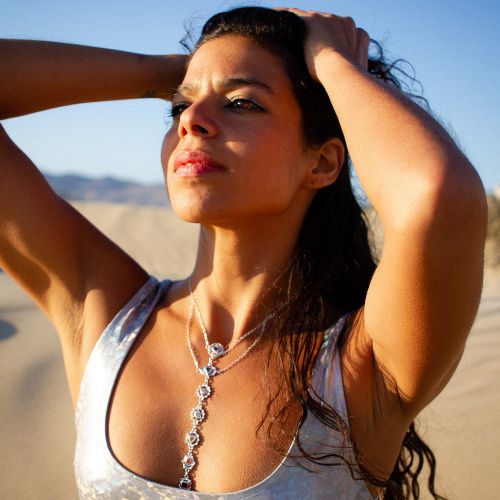 Chakra means "Wheel" in Sanskrit. The life flow within us moves in spiral wheel patterns through seven areas of our body called chakra points.  
Through meditation and inspiration, our mother-daughter design team creates meaningful and dynamic sterling silver chakra jewelry designs that enliven and uplift the wearer.  
Our authentic chakra jewelry consists of seven different colored high-grade genuine gemstones. Each sparkling stone is carefully placed in correspondence to the particular frequency level it represents in the seven energy centers of our body.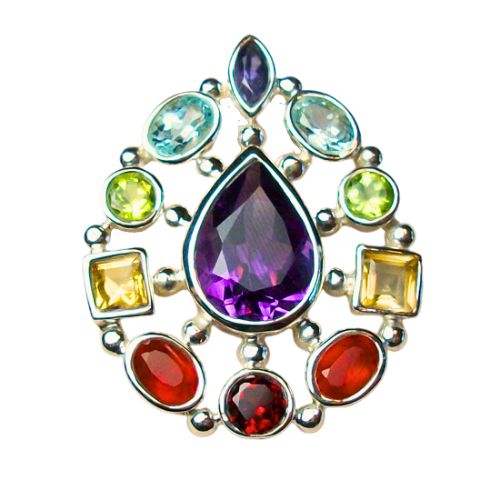 Your customers will find the unique motif that resonates with them to balance and invigorate their energy level.  
*Garnet surcharges the Root Chakra which opens downwards to ground us.  
*Carnelian enlivens the Sacral chakra that supports us.  *Citrine invigorates the Solar Plexis, where our emotions radiate.  *Peridot inspires the heart to connect with the lower and higher chakras in our heart space.  
*Blue Topaz purifies the Throat Chakra with its clear, silvery glow,  inspiring us to speak our truth.  
*Iolite energizes the Third Eye, our unconscious and intuitive perception.  
*Amethyst awakens our Crown Chakra, our soul consciousness to rise upwards.  
*Occasionally other natural gemstones of corresponding colors may be placed in the same color pattern.