This inspiring video was made by my daughter, Ganga Devii Sheth, portraying her ongoing projects of caring for poor widows in India. Our family business Esprit Creations is actively involved in these and other programs that support educational and care projects for those who are in need.

Esprit Creations family is dedicated to supporting and sustaining education and care projects.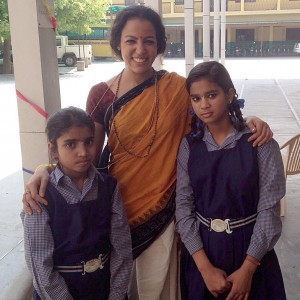 Elaine's daughter Ganga with Dali and Dina.
Esprit Creations supports and sustains educational projects that help underpriviledged children complete their education and work skills. We are actively involved in care projects that facilitate the distribution of free food, clothes and personal amenities as well as finding job opportunities for the adults of needy families.
Our daughters Ganga and Jamuna have volunteered at the village schools and animal shelters ever since they were children. Now they organize large food and clothing distribution to children, families and widows in need.
Our families motto is, "We give our best to the world."