EC is known for the kind of Rainbow Moonstone and Labradorite that contain a effervescent light that catches the eye and turns heads. One of my customers named our Moonstone, "Dancing Spirit Moonstone".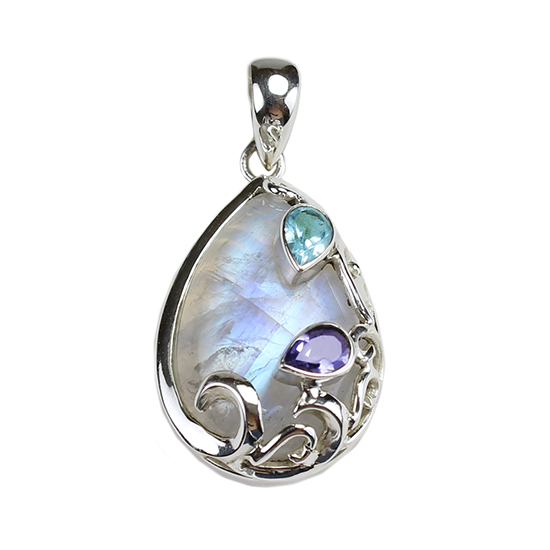 I hand-pick the choicest pieces of Rainbow Moonstone and Labradorite then double check them in a compact mirror because the stone must not only glow while facing the light, it has to glow all over when your customer's wear it as a pendant. I only choose Rainbow Moonstone and Labradorite that shine with an ethereal, silvery, moonlike glow that originates from deep within the stone and radiates out with an opalescent shimmer.
Besides the dancing spirits, the glow comes from the Feldspar mineral. Most Moonstone and Labradorite are found in certain parts of India and Madagascar. Good quality Moonstone is becoming rarer to find because it has been mined for centuries due to it's natural beauty that forces us to notice it.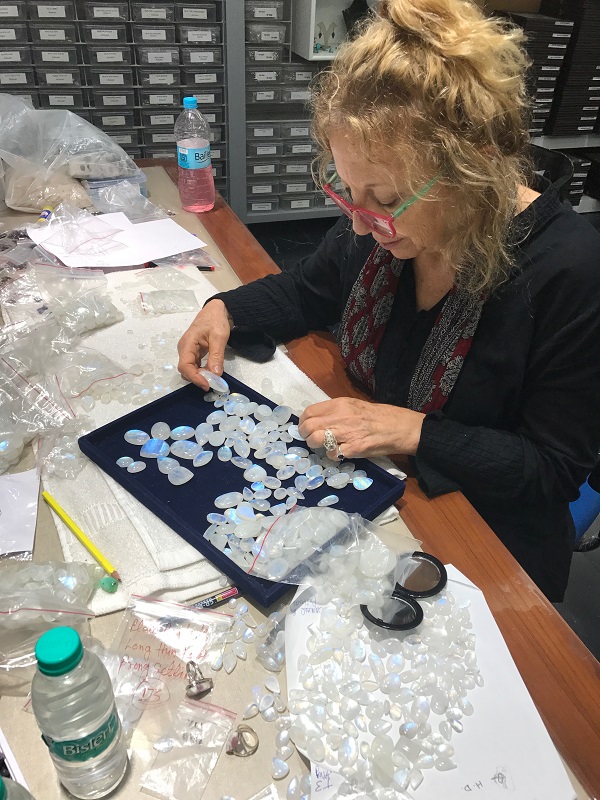 Because I do the quality control work for you, you will not have to look twice at our Rainbow Moonstone to make sure that it glows. Rather, you will be mesmerized and not be able to take your eyes off it!
When Labradorite exhibits a broader spectrum of diverse colors besides blue and green tones, it is often called Spectrolite, which is technically found only in Finland, and is extremely rare and very expensive. But I found two sources of natural purple Labradorite that is mined out of Sri Lanka and Madagascar along with regular blue and green Lab.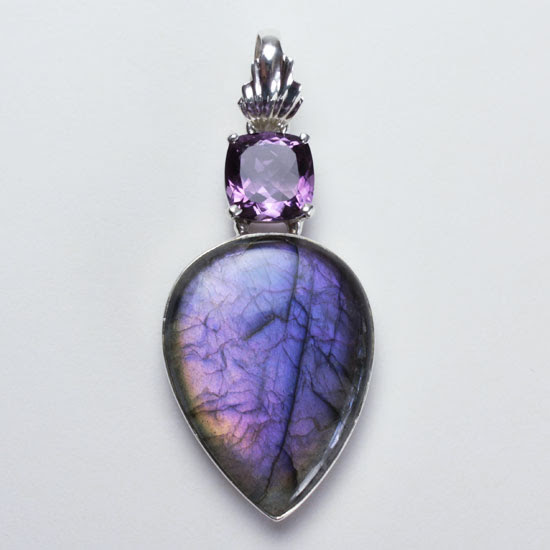 It is rare to find the purple glow among these lots, but I sort through them to find the ones with the most vibrant glow and matrix of colors. Our Purple Lab Glows Naturally in Surprising Shades of, Pink, Lavender, Deep Purple and even Fuchsia! By choosing carefully, I am able to offer you rare, purple Labradorite at a very reasonable cost.
I am calling it Purple Mountain's Majesty because the amazing swirl of glowing colors mixed with a distinct purple radiance is so much like the breathtaking view of the mountains and spacious skies at sunrise that inspired the song, "America the Beautiful" "…With purple mountain's majesty above the fruited plains…"
One of my clients exclaimed, "I can't keep enough of your Spectacular-ite in my stock."
Here I'm looking over solid raw sterling silver blocks that will be used in the casting of our new collections. We pride ourselves with using only nickel-free 92.5 Sterling Silver, always.
Each piece from EC goes through this extensive "state of the art" extra high tarnish-resistant polishing process.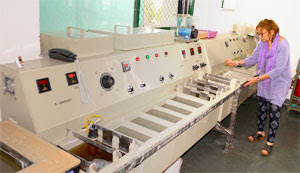 After setting the stones in our designs, every piece is dipped in each of these vats then rinsed, dried and buffed before reaching your store. When it comes to you it stays extra shiny and tarnish resistant for a longer period of time. Your customers will notice this too!
"Your jewelry pieces have a certain crispness and vitality that I don't see anywhere else." -Greg, Multi Store Owner, N.C.